It's OK to treat yourself with the same compassion, love, and kindness as you express and offer to others.
Some of the most compassion, kind and loving people I know are also the meanest.
No, not to others, to themselves.
As humans, we are very quick to beat ourselves up when we make a mistake - even when we're beginners and trying something new for the first time!
We can be exceptionally good at belittling our skills, talents, and gifts, so much that we don't feel we have the right to share them! This applies to so many: the career changer, the artist, the writer, the new business owner who believe that their voice doesn't matter.
Heaven forbid we aren't seen as having all our life neatly packaged together - especially in our work and business. There is really no shame in being at the start, sadly though many people feel that they have to be at a certain standard when they begin. It's not true.
Instead of being kind and gentle with ourselves when we are in the process of growth and transformation we can be very quick to berate ourselves for not being good enough, or worse compare our journey - and ourselves - with others.
I believe that any period of growth or transformation, any time of discovering and exploring who we are, any journey of finding our place in the world and what we do in it is easier if we cultivated a practice of compassion, kindness, and love.
WHY UNFINISHED HUMAN?
I know many people arrive at Living Moxie to reclaim their courage and confidence, explore who they are and what they stand for so the can deploy the most authentic version of themselves into the world.
Often they seek the tools, information, and experiences that will help them remove their self-doubt and obstacles (real and imagined). They want to feel valued, that they do matter, that they are capable of achieving their dreams, goals, and wishes.
I had been a personal development trainer and coach for many years - verging on evangelical about the tools - before I even considered that being who you really and exploring your place in the world has to be built on a strong foundation of self-compassion and kindness.
Most of us learned early in life that that loving who you are was the same as being (arrogantly) in love with yourself.
It's not.
Loving yourself - the practice of giving yourself full permission to accept for yourself the same love, compassion, kindness and understanding you have for others - is not only crucial to your health and well-being, it also really matters to your own personal development and growth. This is why:
We have to be gentle with ourselves - not just when we are making life changes - all the time. We can't possibly expect that everything we touch in life is going to go according to our script of how it's going to go. Life happens. Things get in the way. It's what we do and how we treat ourselves when we are faced with our barriers, hurdles, self-doubts and obstacles that make a difference to our lives.
Unfinished Human Lessons & Practices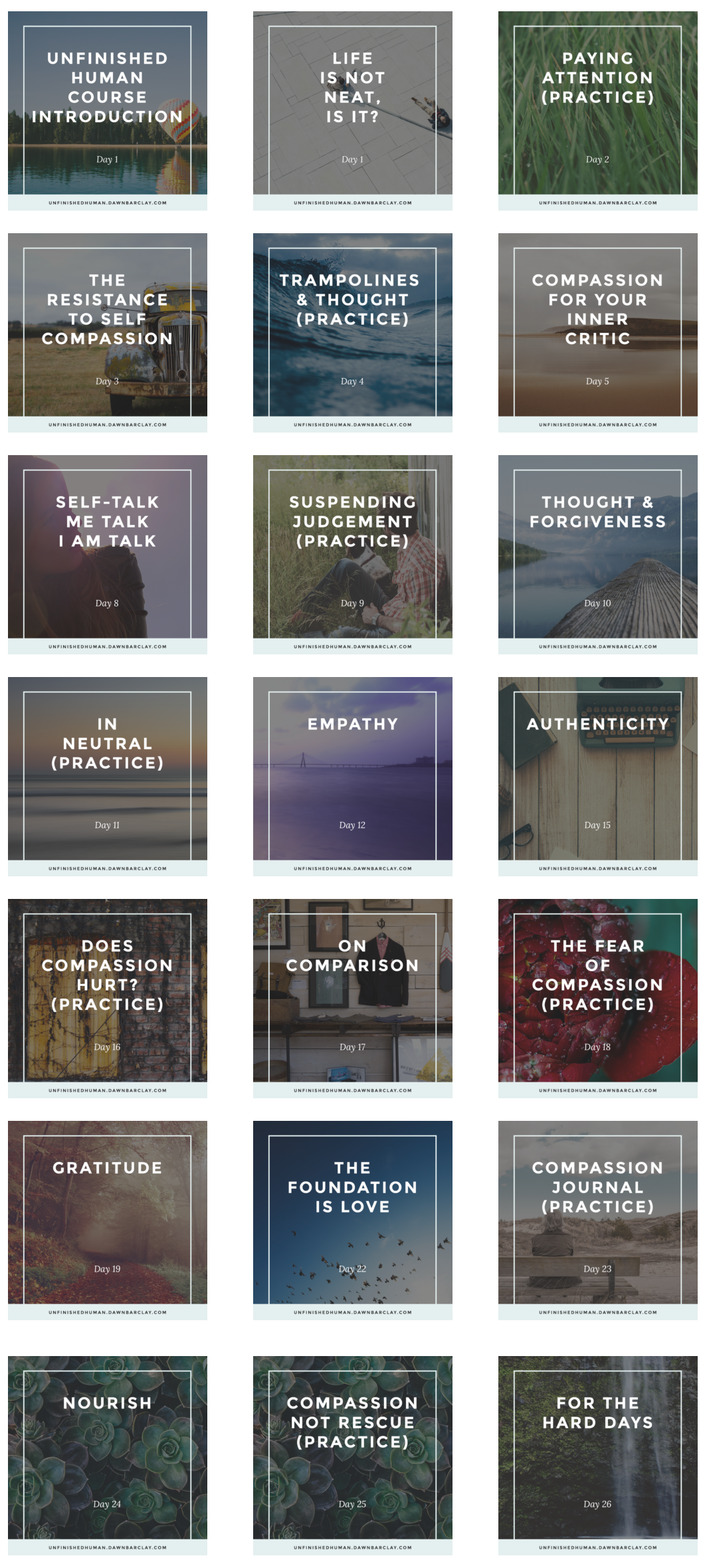 COMPASSION AS YOU GROW
We try really hard to create how we want to feel on the inside by what we do on the outside. We set goals, make plans, go on an exploration of who we are and what we stand for, and try and discover our reason for being here.
And yet, what we really crave is so simple, we want to feel valued, that our dreams matter, that we are worthy and capable and feel supported. And that, that is something we can always do for ourselves first.
Unfinished Human is like taking a life breather for 4 weeks.  You have nothing to match up to. You have nothing to create or make. It's simply about learning to be a little bit kinder to yourself, to go gentle, to not have a plan of what you are going do, but have developed a practice of who you want to be when it's time to take action again.
I hope that life throws you the most amazing, wonderful, brilliant opportunities as well as the challenges. My wish with Unfinished Human is that you always handle and deal with them from the most compassionate place within you.
HOW UNFINISHED HUMAN WORKS:
Unfinished Human is a 4-week self-paced e-course to help you lay the foundations of self-compassion and kindness in your own life.
You can begin Unfinished Human today. Everything is ready for you.
When you register you will be given access to the first day of the course. Every day for the next four weeks I will send you a lesson, a practice or both. It's a gentle course, at a gentle pace. You decide when you move forward with a lesson or a practice as you will have 24/7 access to the material for one year.
I've set it up that every day for 4 weeks (with a few 'rest' days) you will receive new prompts and powerful journal prompts so by the end of the 4 weeks you will be in the practice of allowing for yourself the same love, compassion, and kindness you have for others on yourself.
COMING TO UNFINISHED HUMAN YOU WILL:
Learn to listen to your most authentic self
Stop judging, criticising, belittling and putting yourself down so harshly
Engage self-compassion and self-love in your life
Embrace your own truth and story
Innerstand why comparison is the thief of authenticity
Stop seeking approval - except your own
Accept mistakes are a part of life, and making more of them won't harm you
Find the courage to accept love, compassion, and kindness for yourself
My wish: increase your confidence and self-esteem
Develop your own practice of how to come from a place of compassion